Are there news on the diesel hybrid system that we installed for a research station in the Seychelles in 2012? This question was answered with the most recent researchers' annual report. Especially pleasing for us: the system exceeded all expectations!
It has been three years since we installed a PV hybrid system on the heavenly Aldabra atoll.  The aim of the system was to supply the local research station of the Seychelles Islands Foundation (SIF) with environmentally friendly solar power. The 12-strong SIF team are dedicated to exploring and preserving the coral reef which has been a UNESCO World Heritage Site since 1982.
Excellent news has come our way back in rainy Germany from the sunny atoll. The 2013 annual report informed us that our high-quality components not only met expectations, but even exceeded them and the result achieved for solar power was better than expected. The research station which has been solely powered by diesel generators until 2012 now enjoys up to 97% solar power supply. Expressed in figures, this means that 35,709 kWh of solar power has been produced. This equals the annual consumption of almost 9 German 4-person households. Due to the outstanding solar yields, only 1,143 kWh was provided by diesel generators. The SIF team was also able to reduce its power requirement by more than half.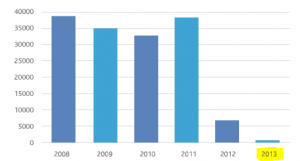 And it is paying off: Instead of the previously required 38,000 litres of diesel per year, the consumption in 2013 dropped to 530 litres. This represents an unbelievable saving of 99%! The reason: the diesel generators were only employed as a back-up on rainy days or during the night. The latest figures even show that this percentage has halved again: only 280 litres of diesel was required in 2014 (minus 53%).
The huge decline in diesel consumption means that there is a significant cost saving and greatly improves things for man and nature. In addition to the noise pollution and the harmful exhaust gases from the generators, the complicated shipment and return of diesel drums is no longer necessary. This was only possible at high spring tides and was not particularly safe for the sensitive ecosystem.
Encouraged by this success, the research station intends to invest further in environmentally friendly projects and particularly sustainable ones. Improvements were made to waste recycling, the use of rain water in the water supply was improved and new, power-saving climate systems were acquired in 2014.
As all signs continue to point to change, we are keeping our fingers crossed that the researchers not only achieve their new objectives in 2015, but exceed them once again!
You can read the English SIF report on the evaluation of the PV system here: SIF Annual Report 2013_Hybrid System
Guest author: Annemarie Müller, industrial clerk trainee at IBC SOLAR