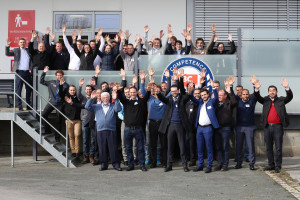 Photovoltaic experts come together every spring in Upper Franconia in the otherwise tranquil town of Bad Staffelstein. While the German PV industry and research sector meet at the annual "Photovoltaic Solar Power Symposium" at Banz Abbey, solar experts from all over the world gather at the Premium Partner Summit at our Competence Center.
We welcomed 40 international participants from 20 companies and 15 countries a week before the start of the symposium. The focus of the annual customer event – the Premium Partner Summit – was the platform for exchanging professional experiences, workshops and seminars. More than half of those in attendance travelled from European countries this year – from Norway to Spain. Other participants came from the MENA region (Middle East and North Africa) and from Central and Southern Africa – emerging PV markets in which solar self-consumption and hybrid solutions have a particularly important role to play.
Due to the high level of incident solar radiation and an increase in demand for electricity, photovoltaic energy is also becoming more important in countries which use traditionally fossil fuels. Solar power generation is generally a lot cheaper than conventional energy. Once governments have recognised the economic potential of power generation from renewable sources, they promote the installation of PV systems by allowing internal consumption or even introducing support programmes.
An example of this is South Africa, which aims to achieve a PV expansion of 9.7 gigawatts in the next 15 years. Incident solar radiation of 2,100 kilowatt hours per square metre and a support programme create outstanding conditions for achieving this objective. Reason enough to present our international customer event this year under the motto "South Africa"!
As a special reward, Premium Partner Awards were again handed out at the 7th Premium Partner Summit – for a particularly successful cooperation with IBC SOLAR in the previous year and to companies who were new to the Premium Partner network in 2015.
Some impressions of the 7th Premium Partner Summit can be viewed in our picture gallery: