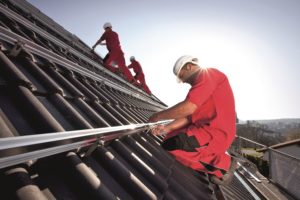 It is important for the solar energy system to be securely fixed to the roof of all installations – and every roof has its own specific requirements. I would like to take the opportunity with this and other blog entries on the subject of "mounting systems" to present the typical mounting options to operators and installers for the most frequent roof types and give them recommendations. Today's entry is all about pitched roof special cases.
With the majority of roof types, unfortunately, not all of them can be covered with a standard mounting system. That's when individual solutions are required. In such cases it is recommended for a roofer to work together with an experienced solar installer, as they have a good overview of the market. Often roof manufacturers can also offer a specific solar solution for your products. What's important, in any case, is not to invalidate the roof manufacturer's warranty with a PV installation. That's why a solution approved by the manufacturer should always be sought out.
Such special cases include roofs with titan-zinc sheet metal or sheet seam. It should always be ensured that the fastening of the PV system does not take place in the water-bearing layer. An exception to this is the titan-zinc sheet metal or further "soft" roofing. Here it is advisable to choose the right kind of fastening point (e.g. hanger bolt with particularly large seal). A fastening on the fold is not advisable as this can be damaged by the dynamic movement and the roof can therefore become leaky. For all other conventional types the sheet seam clamp can be used for the corresponding roof. However, the manufacturer's specifications should be observed in any case (expansion gaps, clearance of roofing fastening points and PV system etc.). With the help of our universal connector you can then install the PV system on the roof after general building approval.
Our solution: IBC TopFix 200
The modular principle is compatible with many special solutions and therefore furnished with an approval from the manufacturer right from the start. For example, our system works seamlessly with the products of the manufacturer "Kalzip".
Our YouTube channel has a series of short installation videos on the topic.
Part 4 of our series is all about "flat roofs". Stay tuned.