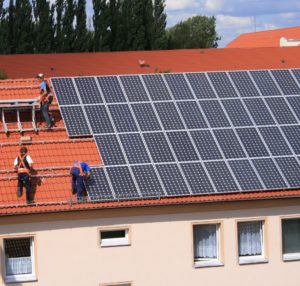 It is important for the solar energy system to be securely fixed to the roof of all installations – and every roof has its own specific requirements. I would like to take the opportunity with this and other blog entries on the subject of "mounting systems" to present the typical mounting options to operators and installers for the most frequent roof types and give them recommendations. Today our topic is practical tips.
The feed-in of solar power is being increasingly supplanted by self-consumption. For the ideal orientation and planning of a self-consumption system, load profiles have to be created. Cooperation with an experienced PV installer is recommended here, in order to achieve maximum capacity. In the case of electrical connection and commissioning cooperation with an electrician is mandatory, as only master electricians certified by the Chamber of Trade are allowed to undertake these.
The static
The main loads of a roof are wind, snow and its unladen weight. These forces have to be diverted in the substructure or in the roof cladding. In all systems, the expansion of various materials (e.g. aluminium mounting systems on steel substructures) also have to be taken into account and balanced by expansion gaps. Otherwise the operator risks damage to the PV system and/or the roof. In the expansion joints, the manufacturer's instructions should be taken into account.
Important planning help
IBC SOLAR offers support with its in-house project-planning software PV Manager. This provides our Premium Partners with a helpful tool from consultation to planning to installation of the system. The "PV Manager" automatically provides static calculations for our "IBC TopFix 200 System" for pitched roofs. For the "IBC AeroFix system" for flat roofs the static calculation incl. ballast plan is currently created by IBC SOLAR product management as a service on a project-by-project basis.
The look
In recent times, aesthetics has become more and more of a factor, particularly in systems on private households. If the customer requires a closed module array for visual reasons, smart modules can be used in shaded areas. These can be individually controlled and do not act as the "weakest link in the chain" that negatively influence the capacity of all modules connected to a string – as is the case with normal modules.
IBC SOLAR backs quality
IBC SOLAR values quality, reliability and safety of all its products and system solutions very highly. The mounting system for the modules is particularly decisive for the stability of the overall system when constructing a photovoltaic system. That's why regular product tests go without saying for us. For example, all of our mounting systems are put through their paces. All individual components of the systems were checked by various accredited testing institutions and certified by the Deutschen Institut für Bautechnik (DIBt) as part of the "general technical approval". This means our customers can be sure that our product not only keeps its promises in theory, but also in practice.
Further reading: The new VDI guideline "VDI 6012" from January 2016 gives an overview of all installation designs, module types and roof types.