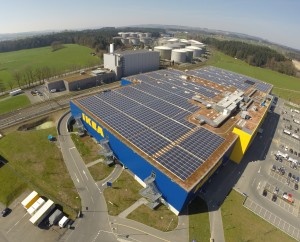 "Do you still reside or do you already live?" This IKEA advertising slogan used in Germany must now be supplemented with "Yet producing or still consuming?". The largest PV system of the Swedish furniture company to date was recently put into operation at a Swiss store. Modules with an output of 1.5 megawatt peak are IKEA's contribution to greater sustainability.
IBC SOLAR and it's Swiss Premium Partner BE Netz from Ebikon were the supplier of the PV system. The particular challenge in planning the project was the low load bearing capabilities of the roof, especially considering the additional snow load in winter. In order to reduce the overall weight of the photovoltaic system, the aerodynamically-enhanced IBC AeroFix 10 mounting system was chosen. The modules were mounted with a flat angle of inclination in an east-west alignment. The module field is also concluded with a module on the roof edge instead of with a wind baffle as is usually the case. The photovoltaic system is therefore less vulnerable to the wind. As a result, only a small amount of extra ballast is required with less than 5,000 kilograms in order to give the solar energy system the necessary stability on the flat roof. A screw connection with the roof is not needed.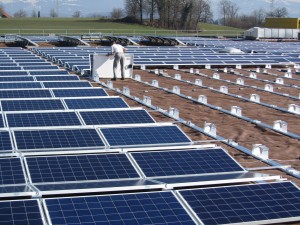 The current green roof was covered with protection to prevent plant overgrowth to ensure that there is no subsequent shading of the modules. However, an additional building protection mat must not be installed, as there is one already integrated into the rails of the mounting system. IBC SOLAR supplied all the components and helped BE Netz when it came to planning the system. It was therefore possible to complete the large-scale project in accordance with the high standards in statics calculations, system design and on-site consultation.
The power produced on the IKEA roof is fed into the public grid, as the PV system is operated subject to the framework conditions of the "compensatory feed-in remuneration". However, aside from the conventional full feed-in, self-consumption of solar power is becoming more and more popular in Switzerland and has even been subsidised by the government since last year with an investment grant for private and commercial PV systems – what is referred to as non-recurrent remuneration .