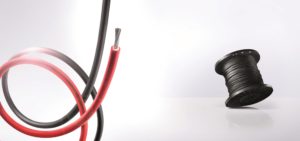 What are the main components of a PV system? To be precise: Modules, inverters, the substructure. However, there are even more… plugs, fuses, terminal boxes… and a lot of solar cables. And these cables are exactly what our current blog article is all about. System planners solely focus all too often on the main components. These components must be of high quality and durable. However, very often defective solar cables cause a system failure.
Operators of solar energy systems – no matter what size – want to be able to benefit from their investment and the solar power production for as long as possible. However, planning or installation mistakes and the poor quality of the components used may considerably reduce the lifespan of PV installations under certain circumstances.
For example, substandard cables or solar cables inappropriate for the environment immensely increase the risk of system damages. In particular the placing of cables underground can be problematic if these cables are isolated or coated with a material of low quality.
The European standard EN 50618
The European standard EN 50618 has been in force since 27 October 2015. This standard regulates the properties, requirements and use of cables for photovoltaic systems. The aim is to have a consistent quality standard for PV cables across Europe. Cables that meet the EN 50618 standard are suitable for long-term use in exterior locations over many years subject to changing climate conditions. System operators recognise the cables that meet the new standard by the embossed construction type abbreviation "H1Z2Z2-K". The construction type abbreviation "PV1-F" is expiring.
High quality prevents ageing processes
A solar cable is exposed to a number of ageing factors throughout its life.


One of these factors is "photooxidative" ageing. Solar radiation makes the outer sheath of the cable brittle, it fades and the UV stability is affected.

"Thermo-oxidative" ageing changes the material properties of the cable due to the heat or cold. This also makes it brittle. Just imagine a cold, clear winter's day like those we have frequently experienced this January. The temperatures were below freezing. If the system generated a great deal of energy, the cables were exposed to a high level of stress.

"Chemical-oxidative" ageing is also evident in the form of embrittlement of the cable. Anything from cracks to loss of material occur as a result of chemical stress on the solar cable such as minerals and salts in the soil or acid rain.

"Biological-oxidative" ageing results in microbial growth, e.g. a fungus, on the outer sheath of the cable.
IBC SOLAR solar cables: Buriable and durable
The IBC FlexiSun solar cable has been part of our portfolio for more than ten years. The latest version of the all-purpose solar cable produced in Bavaria meets the standard EN 50618. In contrast to many other solar cables, IBC FlexiSun is buriable. This eliminates the complex procedure of laying ducts as cable protection, especially when building large ground-mounted PV projects. The long service life is ensured by the verified resistance to water, ammonia and abrasion. The cable is also an ideal and resistant choice for roof systems – thanks to its high temperature tolerance, it can be used in all climate zones and can be laid at temperatures of up to -15 degrees Celsius. There is a brand new version available wrapped with a tinned copper sheath. This protects the cable effectively from the chewing of rodents.
IBC FlexiSun has double-walled rubber insulation made from ethylene vinyl acetate (EVA) instead of the otherwise customary polyolefins (also TPE-O or thermoplastic elastomers). EVA is also used, for example, in many solar modules as a backsheet film and has proven its worth. No other material offers such long-term resistance. TPE-O, on the other hand, does not provide sufficient water and heat resistance in the long term. This may result in vulnerabilities and consequently insulation faults occurring over the years.
We grant our solar cables a product warranty of 10 years. IBC FlexiSun has already been certified as a standard cable by the VDE (German Association for Electrical, Electronic & Information Technologies). It also has a German TÜV certification. It is one of the most resistant products available on the market with a life expectancy of 30 years. This is also indicated by the practical experience of the past decade: No failure attributable to a material weakness has been documented for the 80,000 kilometres of IBC FlexiSun sold up to now.
Aside from the quality of the integrated cables, the right installation is of course also important.
Installation faults lead to yield losses and extensive repairs
The German TÜV Rheinland released a study on PV systems in 2015. According to this study, almost 30% of all verified solar energy systems in Germany had serious defects. These types of defects must be repaired immediately. Not only because this may result in significant yield losses, but also because the house residents may be harmed by an electric shock or a fire in the case of roof systems. 55 percent of solar energy systems tested by TÜV are installed incorrectly. 9% of the tested solar modules had product defects.
In addition to incorrectly mounted roof hooks, faults with connection and contact points are especially dangerous when it comes to a faulty assembly.
Power cables must be attached without any loops forming, otherwise there may be a cable fire. It is therefore important to lay them correctly. Very often we find the following faults:
cable bundles with a large number of cables,
cables that are completely exposed to the weather being laid haphazardly and transversely,
cables that have been laid in the rain gutter,
clamped points or cables that lead over sharp edges,
incorrect bending radii,
attachment with cable ties.
PV cables connect solar modules and inverters and conduct the current to the grid feed-in point. They therefore ensure the functionality of complete PV systems. Even if the aforementioned faults do not result in a total failure of the system, almost unnoticeable gradual conduction losses reduce the solar power production. In addition to yield losses, the consequences are lengthy and very complicated repairs, as not every cable is easy to replace or to access.
Findings
We recommend that system operators and installers not only focus on product quality when it comes to modules and inverters. It is also important to look at the solar cables. However, we are pleased to have noticed an increased awareness of this issue recently and hope that system failures resulting from defective solar cables are soon a thing of the past.