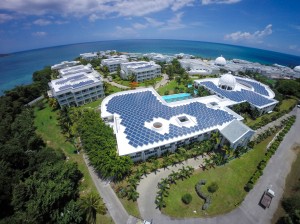 The Grand Palladium Resort & Spa, a five-star hotel in the Jamaican parish of Hanover, initiated the solar revolution in the Caribbean. A photovoltaic system with a 1.6 megawatt output on the roofs of the hotel complex has provided the resort with the majority of its power since the end of May. The hotel owners have spent a fair amount of money on this investment: They paid 2.5 million euros for an independent power supply and the largest solar energy system of the island nation to date. However, the PV system must also meet high economic expectations: the complete return on investment is expected after four years and the aim is to generate an energy cost saving of 16 million euros over the next 30 years.
The technicians were able to enjoy the stunning view of the Caribbean Sea during the installation of the system. At the official inauguration in the presence of the Jamaican energy minister and the Spanish ambassador, a camera drone ensured the right viewing angle of the modules.
The solar power plant was developed and built by SOFOS Jamaica Ltd., one of our international Premium Partners. The project developer with their headquarters in Kingston helps Jamaican companies to become more independent from the national power grid and the high energy costs. The system of the Grand Palladium is the first major project which SOFOS has implemented in Jamaica and marks the start of a number of additional projects that SOFOS are planning in cooperation with numerous Jamaican companies. We supported our Premium Partner with our years of experience in international business and supplied solar modules and further system construction components.
The system is the first in the Caribbean with a locking system which enables the self-consumption of power generated by the solar energy system without feeding the excess energy into the grid. The PV solar energy system used by SOFOS Jamaica was developed especially for the Caribbean, is lightweight, requires very little maintenance and withstands hurricanes up to category 4. The PV system is also equipped with software developed by SOFOS which allows immediate access over the Internet and enables warnings in the event of system malfunctions and e-mail or text messages.