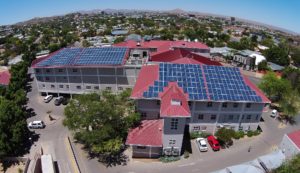 Solar energy systems are extremely attractive for companies in Southern Africa. PV systems for self-consumption provide protection against the instability of the local power supply and help to save costs and the hospital operator Mediclinic International is leading the way. Our Premium Partner Solsquare Energy (Pty) Ltd. has planned and installed a PV roof system for the South African private hospital group. The PV installation for self-consumption in Windhoek (Namibia) was connected to the grid in December 2015 with a total peak output of 88 kWp and covers the majority of the hospital's energy requirement. This enables Mediclinic to save around 8,000 euros each year.
Mediclinic International is one of the three largest operators of private hospitals outside the United States and runs 54 hospitals in Namibia and South Africa. The new flagship PV system in Windhoek is already the third system installed in this region for Mediclinic. Despite the limited roof area of 554 m², our Premium Partner succeeded in increasing the energy yield with high-quality components from Germany.  338 IBC Polysol 260W modules were used, enabling Mediclinic to reduce energy costs in the long term. The PV system is connected to the grid and provides the majority of the hospital's energy requirement with solar power and that represents a saving of 124,000 rand (around 8,000 euros) each year.
Solutions which enable companies to generate their own solar power supply are extremely attractive for companies in Southern Africa, as it enables them to establish a power supply that is very stable. South Africa also offers the best possible geographic conditions. Solar power solutions are also used in many areas in Namibia ranging from agriculture and private households to industry. The energy is mainly used for self-consumption, as is the case with the system on the Mediclinic roof, and is not fed into the local grid. As the climatic conditions here are sometimes more difficult than in South Africa, there is a great demand for robust and efficient PV solutions. That's why it is good that we have a strong local partner in Solsquare who, like IBC SOLAR, strives to provide the best available quality at all times. This means that the sunshine beaming down on the rooftops of Windhoek can be exploited to the full.