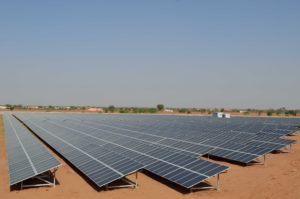 Shailendra Bebortha calls it a "milestone": With the signing of the EPC contract (engineering, procurement, construction) for our major PV project near Phalodi, India, the Managing Director of our Indian subsidiary cannot only announce IBC SOLAR's largest solar project outside of Germany to date. With the installation of 22.5 MWp we now also exceed  a milestone of 50 MWp of solar capacity for third party customers in India. The construction is expected to start in October, commission is planned for April 2017.
Engineering services and technical supervision will be provided by our German colleagues from the specialist departments of IBC SOLAR AG, whilst our colleagues from the Indian subsidiary IBC SOLAR Projects Private Ltd. will be taking care of the construction work on site. The new project will be carried out in Rajasthan, one of the federal states with the largest amount of installed solar capacity in India and a dedicated policy regarding photovoltaics. Due to its location in the transition zone of the Thar Desert, the region is facing topographic as well as climatic challenges. Especially the secure anchorage of the supporting construction in  the loose, sandy soils presented us with challenges in the past. German engineering skills were needed, as well as several test runs with specially developed concrete foundations that were anchored to the ground, like large dowels. Lucky us, that we have more than 30 years of expertise in delivering turnkey PV projects on  time and that our technological experts have always found the right solution so far.
This long-term experience – it is already our sixth EPC contract in India – was one of the important reasons why the investor, LG Bangur Group, has opted for the cooperation with IBC SOLAR again. We have already planned and constructed solar parks for the Indian company in the past, most recently in Bhadla (2014) and Pokhran (2015).
The new contract demonstrates LN Bangur Group's trust in IBC SOLAR and its ability to deliver high quality solar PV projects. Of course we're very pleased about that, and wish our colleagues every success  in the realization of this record-breaking project in the next months!