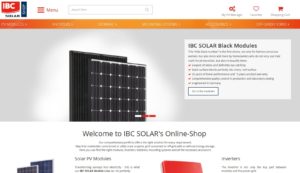 We have completely revised our Online Shop for German and international installers and partners in the last few months, equipped it with additional useful functions and enhanced it primarily for mobile use.
We have recently also given end customers and potential customers the opportunity to obtain detailed information on our portfolio through our Product Catalogue.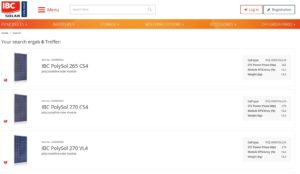 The current layout of our Online Shop and the Product Catalogue is especially clear and user friendly. The aim is to make orders as quick and easy as possible so that installers can concentrate on their core business – installation. More than 1,500 products are listed. Users have extensive filter options which enable them to quickly access the items they require and give them a comprehensive overview. The intelligent search function with image preview makes the product search especially convenient and simple. Carefully chosen alternative items and suitable accessories also appear.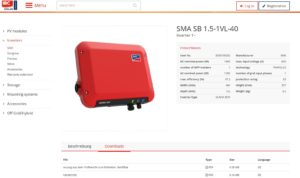 The important technical features are listed right next to the items. There are also extensive download materials such as e.g. product data sheets and guarantees. The available quantity of each product is shown in the Online Shop for our Premium Partners so that the more than 1,000 IBC SOLAR customers can order with planning reliability.
This function as well as the price indicator is not available for end customers in the Product Catalogue. If end customers want to order our products, they can use our solar power calculator to calculate the costs of a PV system on their house and then wait for one of our Premium Partners to contact them and advise them on anything else.
The IBC SOLAR Online Shop and Product Catalogue are fully functional on all mobile devices. This also makes purchasing on the move as simple as possible for installers around the clock. Our planning software PV Manager is connected directly to the Online Shop. This means that Premium Partners are able to order all individual components following system planning with just one click without any delay or transmission errors.
After the first few weeks with our new Online Shop and Product Catalogue, we received very positive feedback from our customers. We do, of course, also appreciate your feedback at all times.
Are you an installer and not yet a customer of IBC SOLAR? Then why not take a look at our Product Catalogue, sign up and take advantage of the benefits of our digital tools.